The New DJI Mavic 3 Is Here To Make Aerial Masterpieces Happen
The Mavic 3 has now officially been announced by DJI, bringing with it a legendary Hasselblad camera, omnidirectional obstacle sensors, and upgraded flight performance.
Whether you are a commercial drone pilot or a hobbyist, the next generation of drones is an exciting one.
Join us as we take a deeper look into the Mavic 3 specs and explore the aerial improvements the Mavic 3 offers.
Customised Hasselblad Camera
The iconic Swedish brand Hasselblad designed and built the L2D-20c aerial camera just for DJI Mavic 3, embedding a professional-grade 4/3 CMOS in an unbelievably compact space
The larger image sensor not only gives Mavic 3 a higher resolution and dynamic range, but it also more effectively suppresses noise in low-light environments.
Thanks to the inclusion of the 4/3 CMOS sensor, the Mavic 3 comes eq a high 12.8-stop dynamic range, allowing pilots to retain more details in highlights and shadows - perfect for working at a professional level.
A big complaint of previous Mavic Models was the inability to adjust the aperture. The f/2.8 aperture lets in more light in low-light situations; when the lighting is adequate, the aperture can be adjusted to lower the shutter speed for smoother, more natural footage.
With the impressive combination of an 84° FOV and VDAF technology, pilots can capture more in every frame whilst focusing faster!
Mavic 3 features the Hasselblad Natural Colour Solution, which is the result of decades of photographic experience, resulting in vivid, natural colours with the simple press of the shutter.. Accurate colour reproduction has never been possible like this.
Hasselblad has worked extensively to make aerial photography look better than ever.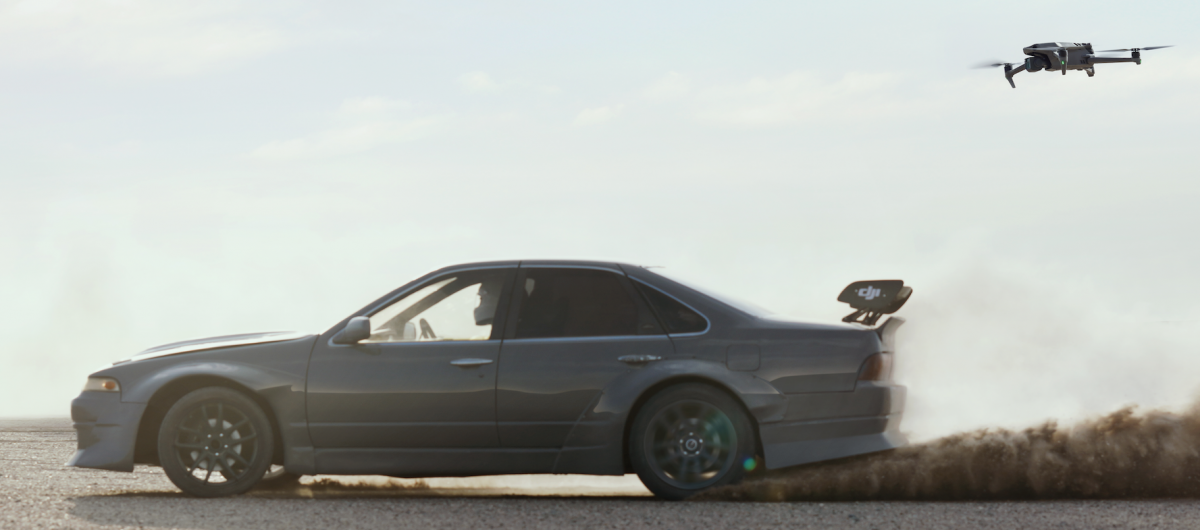 Professional Video On Demand
In addition to recording aerial videos at high resolution and frame rates, the Mavic 3's professional imaging performance also allows it to capture 1 billion colours with a 10-bit D-Log colour profile, giving sky colours a more natural gradation while retaining more details for greater post-production flexibility.
Professional videographers will appreciate the Mavic 3 Cine Premium Combo's camera's ability to record up to 5.1K at 50 frames per second and 4K video at 120 frames per second. If you want to record in 1080p, the Mavic 3 Cine Premium Combo can do it at up to 200 frames per second, making it DJI's most versatile camera drone yet.
A special telephoto lens featured on the DJI Mavic 3 makes it simple to scout and prepare your pictures. When recording distant scenes or subjects, pilots use the tele lens to zoom in and save time, or record from a distance without disturbing the subject.
Safety First With Mavic 3
Safety is at the forefront of every DJI drone - just look at what DJI has achieved with FPV - but none more so than with Mavic 3.
With the inclusion of APAS 5.0 on Mavic 3 flying is more enjoyable than ever before, thanks to recording that is uninterrupted by roadblocks while being recorded. Mavic 3 continuously detects objects while in flight and swiftly and elegantly avoids them.
Mavic 3's Omnidirectional Obstacle Sensing ensures you a collision-free flight, allowing you to focus on filming even when in a complex environment. Multiple wide-angle vision sensors onboard work seamlessly to sense obstacles in all directions and plan a safe flight route that avoids them.
Performance That Impresses
execute each step—from route planning to composition to time-lapse video recording—during a single flight. With an extended flight time of 46 minutes and a video transmission range of 8km, Mavic 3 can do it all.
The Mavic 3 also allows for better stability and minimal video lag, even at 8km of transmission range, offering you greater peace of mind when you are up in the air.
DJI's Mavic 3 drone is the first to ever send a 1080p/60fps live feed. In other words, the camera image is shown at a resolution that is nearly identical to what the camera actually records. Additionally, it improves Mavic 3's responsiveness to your control.
Is The Mavic 3 Worth The Investment?
The Mavic 3 has been eagerly awaited for a very long time but it certainly delivers on it's promise. Imaging above everything? Definitely.
Every improvement on the Mavic 3 raises the bar for aerial photography and videography and will be the defining DJI drone for the foreseeable future.
You can order the Mavic 3 from Drone Safe Store now!