DJI Osmo Action 4 Adventure Combo
---
SKU: CP.OS.00000270.01
Amazing 1/1.3-Inch Sensor
Waterproof Up To 18m
2 Hour 30 Minute Battery Life
10-Bit & D-Log Colour
4k/120FPS & 155° FOV
---
DJI Osmo Action 4 Adventure Combo
Set The Tone
Capturing the raw excitement of the moment, even when the lights are low, is now possible with spectacular image quality and unparalleled flexibility. With Osmo Action 4, thrill-seekers can capture the action, share it with friends, and set the mood anyway they like.

1 x Osmo Action 4
3 x Osmo Action Extreme Battery
1 x Osmo Action Horizontal-Vertical Protective Frame
1 x Osmo Action Quick-Release Adapter Mount
1 x Osmo Action Quick-Release Adapter Mount
1 x Osmo Action Curved Adhesive Base
2 x Osmo Locking Screw
1 x Type-C to Type-C PD Cable
1 x Osmo Action Multifunctional Battery Case
1 x Osmo 1.5m Extension Rod
1 x Osmo Action Lens Hood
1 x Osmo Action Anti-Slip Pad
1 x DJI Logo Sticker
1 x Quick Start Guide
1 x Disclaimer
1 x Warranty Card
Amazing 1/1.3-inch Sensor
10-Bit & D-Log Colour
Waterproof Up To 18m
Long Battery Life
4k/120FPS & 155°
1/1.3 Inch Sensor
Action 4 allows you to utilise each and every one of your camera's pixels to their fullest when recording. Photos taken at any time of day, thanks to the camera's wide f/2.8 aperture and pixel size equivalent to 2.4 micrometres, are packed with fine detail.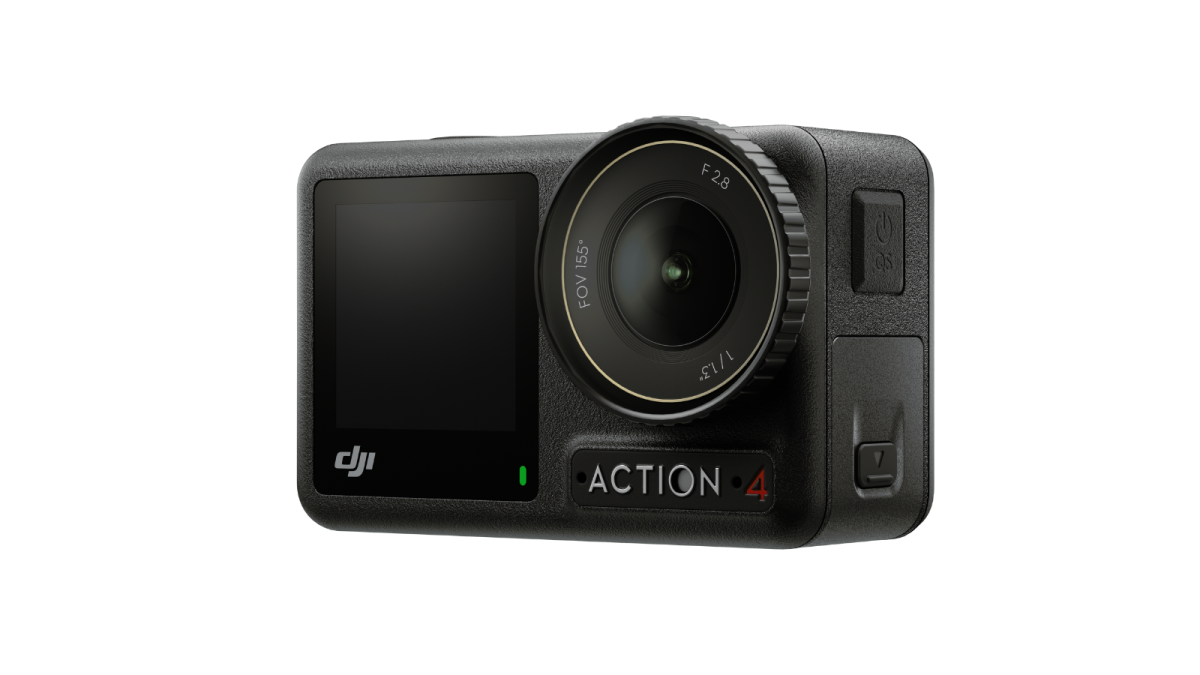 10-bit D-Log M Colour
With 10-bit D-Log M colour mode, you'll have more than a billion colours and a wider dynamic range to play with in post.
155° Ultra-Wide FOV
Feel like you're right in the middle of the action with a field of view that rivals that of the human eye.

360º HorizonSteady
360 HorizonSteady corrects horizontal tilts at any angle regardless of how many flips, twists, or turns are made, going well beyond basic action camera stabilisation.
Considering a somewhat less severe plan? For horizontal tilt correction up to 45 degrees, use HorizonBalancing.
RockSteady 3.0
Removed camera shake. RockSteady 3.0 provides smooth stabilisation for your point-of-view film, even while shooting in 4K at 120 frames per second.
Colour Temperature Calibration
A clever colour temperature sensor ensures true-to-life tones whether the camera is used outside, indoors, or underwater, resulting in colours that are more vibrant as soon as the case is taken off the device.
Magnetic Quick-Release
Because of its magnetic Quick-Release architecture, Action 4 is capable of making modifications quickly whenever they are necessary.
Native Vertical Shooting
It is not necessary to spin the action camera in order to make parameter adjustments during selfies, mode switching, or video playback thanks to the inclusion of dual water-resistant touchscreens.
Dual Touchscreens
Dual water-resistant touchscreens eliminate the need to rotate the action camera for parameter adjustments during selfies, mode toggling, or video playback.

Waterproof Up To 18 Meters
Even if your hands are wet, you may jump in without any difficulty and enjoy how simple it is to use. Action 4 is designed to function at depths of up to 18 metres without the need for a casing.

Ultra-long Battery Life & Fast-Charge Supported
With over 2.5 hours of continuous use, you'll never miss a beat. When you do find yourself in need of charging, you will have access to rapid charging. In just 18 minutes, you may get an 80% charge on your device. Restore your battery and go back to work.

Low-Temperature, High Performance
Because your battery won't freeze up even if it's below freezing outside, you can still exercise your imagination. You are able to record for up to 150 minutes even when the temperature is as low as -20 degrees Celsius (-4 degrees Fahrenheit).

AI Selfie Stick Removal
You now have access to a mind-blowing new perspective point thanks to the enhanced functionality of the InvisiStick feature, which enables you to remove the selfie stick from your images in a wider variety of circumstances than before.

Stereo Recording
Enjoy music that is crisp and clear thanks to a microphone array that is incorporated right into the device and makes it easy to produce high-quality sound. A connection to an external DJI Mic is also supported by Action 4, providing users with more recording options.

Submit Your Review
Your email address will not be published. Required fields are marked *