Brand new model releases from DJI Innovations are always 'hugely anticipated' and the newest release - the DJI FPV (First Person View) drone has now arrived!
DJI FPV is a new drone system from DJI that offers an immersive cinematic experience. With this new system, DJI has taken its expertise in image quality and user experience and incorporated handling and acrobatic capabilities from hobbyist freestyle drones.
The result is a video and camera platform that's uniquely positioned in the market for filming action, and a drone that's more fun to fly than any DJI drone that has come before it.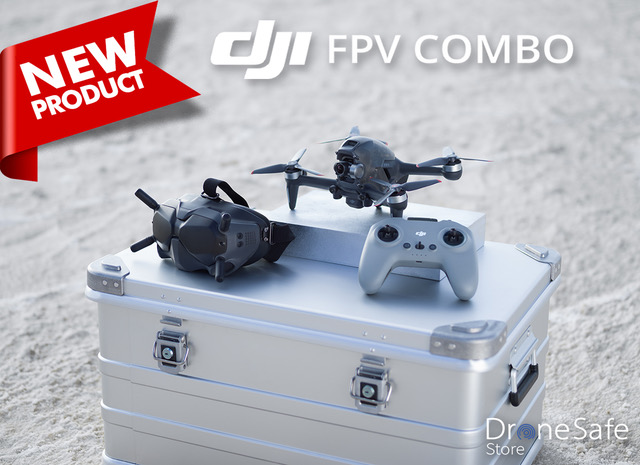 DJI FPV aims to excel at image quality and usability while providing an enjoyable flight experience. Offering a real-time view of the flight as it happens, with very little latency. This is the first time DJI has produced this kind of immersive experience on one of its own drones.
We spoke with
Drone Safe Register
member -
Jason Smith of Cinecloud
for his thoughts on this exciting new release: Jason has been operating drones commercially for over 5 years and one of his specialist areas is flying
FPV drones.
Jason said: "First Person View (FPV) drones are perfect for capturing content in an exciting, dynamic and 'how on earth did you get that shot' kind of way. Flying completely manual, with no assistance from the gimmicks of 'off the shelf drones' - we are able to flip, bank and fly closer than ever before. From intricate indoor space movements to diving down the side of a mountain, we have the set ups ready to provide you with a breathtaking new perspective".
"DJI has always been at the forefront of quality for both of it's consumer and professional drones, and we expect that the DJI FPV system will be no different".


Specs and Components

DJI FPV provides a number of major differences and technical upgrades from bespoke built and hobbyist drones:
• Packaged with the Drone itself you'll get a battery, propellers, gimbal protector, and top shell.
• DJI GPS stabilisation capabilities - Users of previous DJI drones can make an effortless transition to DJI FPV by flying it in "Normal" mode. This is a typical GPS-assisted mode that's easy to control and enables smooth flight
• Battery performance - battery flight times on FPV drones are typically around 5-6 minutes. DJI FPV provides 20 minutes of flight time - in line with other DJI models such as the Mavic range of drones
• Video - DJI has always been at the forefront of image quality on drones, and the DJI FPV system is no different. You won't find a better imaging system on any drone with similar capabilities
• RockSteady image stabilisation smooths out turbulence and jerky flight movements while distortion correction helps avoid image quality degradation
• Video is recorded in H.264 or H.265
• DJI FPV Goggles V2 are the current top-of-the-line offering in HD FPV, they will ship with their antennas and battery
• The Goggles receive an HD video transmission up to 810P at 60FPS in high-quality mode, or 120FPS in low-latency mode
• There are two sets of specs around video: what's transmitted back to the goggles and what's recorded directly on board.
• The imaging camera has a wide 142° view. When shooting at 50 or 100FPS, the view widens to 150°
We understand that the DJI Goggles V1 are not compatible for use with this model

More from Jason Smith of Cinecloud - providing some Top Tips on FPV flying:
Do's
• Practice in a simulator before flying for real.
• Patience, it takes time to learn the muscle memory as well as the various parts of FPV from electronics to aerodynamics to battery chemistry etc.
Don'ts
• Don't go for the hero shot for the first shot of the day, warm up into it. You'll no doubt be nervous so get a couple of practice flights in.
• Don't be disheartened by the instagram shots that look incredible in these idyllic places. Most of the pilots have been flying for years as racers and have the muscle memory and skill, you'll get there with practice.
I can categorically say: "It's the most fun I've had with drones in my career - go for it!"


In conclusion

So what market and operator is the user the DJI FPV Drone aiming?
• Action sports filming and fast vehicle shots, indoor immersive viewing - it will excel at image quality and usability while providing a great flight experience
• For the highly-tuned purpose-built hobbyist drone and racing segment of the drone market, DJI has taken great care to ensure the freestyle-like experience is also seamless and easy to access for all users
DJI FPV Drone seeks to do away with the difficulties of flying existing FPV drones. Like DJI products before, it's a charge-and-fly product, which can give the operator a taste of true freestyle handling.