DJI Inspire 3 Combo
---
SKU: 307062
Tailormade 8K Sensor
Dual Native ISO
14+ Stops of Dynamic Range
O3 Pro Video Transmission at Cinema-Grade
RTK Positioning
Dual Control
---
DJI Inspire 3
Mark Boyt CEO & Founder Of Drone Safe Register & Drone Safe Store:
"It's great to see DJI launching a replacement for the Inspire 2 because it was such a great platform and there is no doubt that dual operation filming produces world-class aerial footage. I personally can't wait to fly it and see what it's all about!"
Fully transparent pre-orders, refundable at any time with updates on your order. We can offer finance on DJI Inspire 3 Kit up to 5 years, please contact us to discuss how we can provide you the best finance options.
1 x Inspire 3 Aircraft
1 x RC Plus (Inspire 3)
1 x Double-Headed Screwdriver
1 x USB-C to USB-C High-Speed Data Cable
1 x USB-C to USB-A Data Cable
6 x TB51 Intelligent Battery
1 x TB51 Intelligent Battery Charging Hub
1 x TB51 Intelligent Battery Charging Hub AC Cable
1 x TB51 Intelligent Battery Paired Batteries Sticker
3 x Inspire 3 Foldable Quick-Release Propellers (Pair)
1 x PROSSD 1TB
1 x Inspire 3 Trolley Case
1 x RC Plus Strap
1 x RC Plus Waist Support
3 x Documents
1 x Zenmuse X9-8K Air Gimbal Camera
1 x Zenmuse X9-8K Air Gimbal Camera Case
1 x DL Mount Lens Cap
1 x X9 Gimbal Base Cap
1 x Lens Carrying Box (18/24/35/50mm)
2 x Inspire 3 Gimbal Rubber Dampers

Tailormade 8K Sensor
Dual Native ISO
14+ Stops of Dynamic Range
O3 Pro Video Transmission at Cinema-Grade
RTK Positioning
Dual Control
Learn to See the Unseen
The DJI Inspire 3 is at the pinnacle of aerial filmmaking and delivers unmatched workflow efficiency, camera language, and creative freedom. Professional-level filmmakers can fully maximise the potential of any shot and master the unseen thanks to this all-in-one 8K camera drone.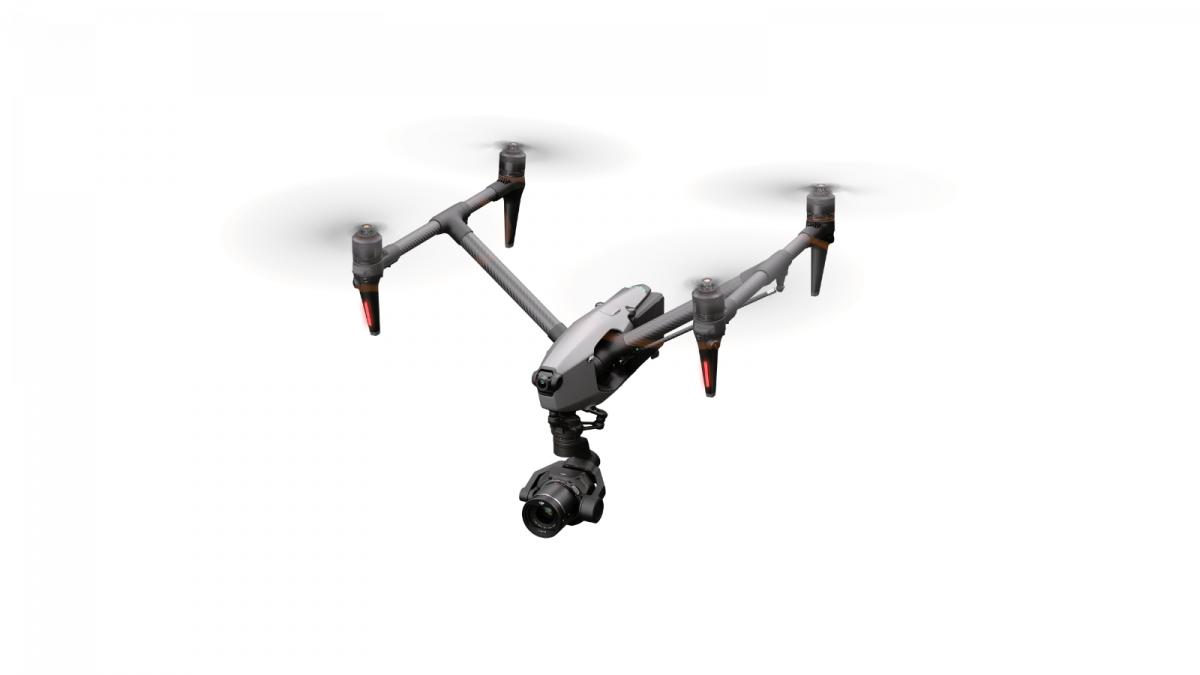 Streamlined, Integrated Design
The Inspire 3 is a professional camera drone with a fluid new design that completely considers aerodynamics to lessen air resistance.
While vertical ascend/descent speed has increased from 6 m/s and 4 m/s to 8 m/s, the maximum dive speed has increased from 9 m/s of Inspire 2 to 10 m/s.
An extended flight time of up to 28 minutes and responsive, precise handling are provided by strong manoeuvrability.
For a clean appearance and contemporary industrial aesthetics, the FPV camera, visual sensors, location antennas, and storage card slot all adopt designs that are perfectly incorporated into the airframe.
With an entirely new design that allows 360° Pan and Tilt Boost structures, Inspire 3 maintains the series' iconic transformable configuration. Cinematographers can get breathtakingly original pictures thanks to the gimbal's support for obstruction-free 80° upward-angle shooting when the landing gear is lowered.

RTK Positioning at the Centimeter Level
Centimeter-level accuracy is provided by Inspire 3 thanks to the integration of high-precision RTK positioning technology used in fields like surveying and architecture. RTK not only makes flying more steady than conventional metre-level positioning enabled by Global Navigation Satellite Systems (GNSS), but also makes flight-route planning more exact, greatly enhancing creative efficiency.
A unique stacked ceramic design for RTK antennae has been included into the aircraft, enabling three GNSS (GPS, BeiDou, and Galileo) and providing dual-frequency positioning down to the centimetre level. Users can acquire extremely accurate positioning without attaching any additional modules by turning on an RTK network or establishing a D-RTK 2 Mobile Station.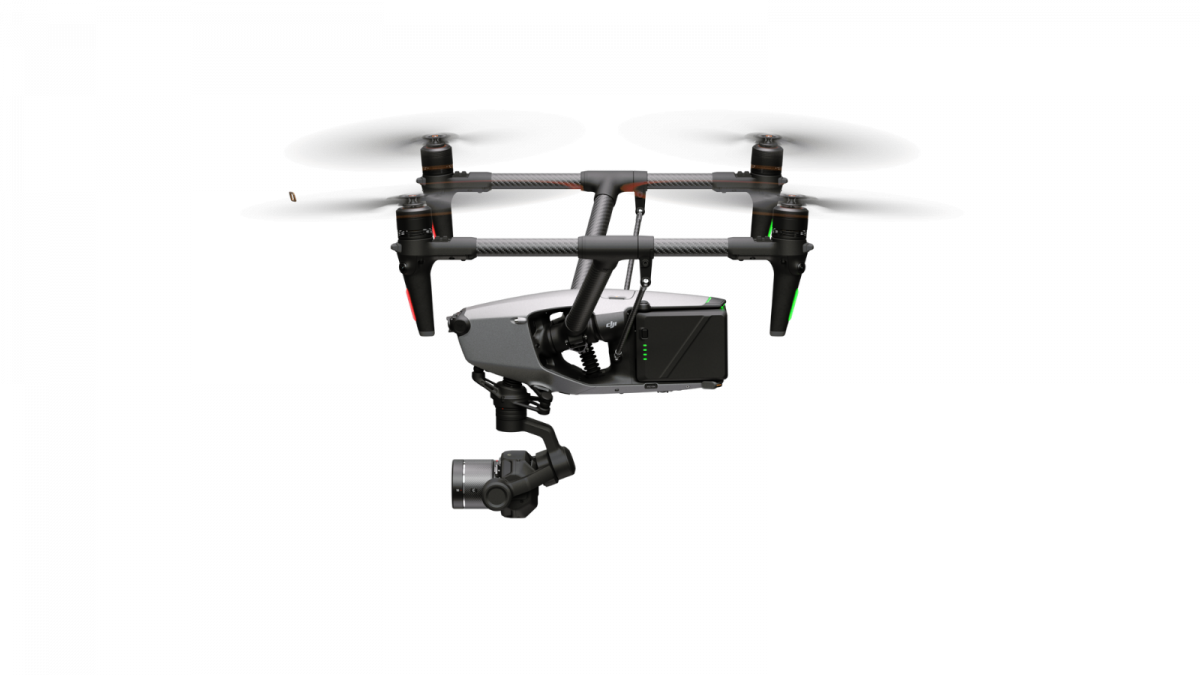 Dual-Antenna Positioning
A robust anti-magnetic interference capability is integrated into the front and back of the Inspire 3's stacked ceramic antennas, enhancing both flight safety and accuracy.

Waypoint Pro
Waypoint Pro, which has been specifically created for aerial cinematography, provides flight-route and shoot planning with a variety of customised options. The new Repeatable Routes and 3D Dolly modes make it simple to create a novel automated shooting experience. RTK centimetre-level location also guarantees more precise planning and execution of flight paths. Use Waypoint Pro to handle even the most complicated situations, whether you're shooting alone or with a skilled crew.
Routes You Can Repeat
Through the use of repeatable routes, the aircraft will automatically follow the same path while maintaining all previously established parameters, including altitude, speed, gimbal angle, and camera settings. Cinematographers may easily accomplish challenging one-take shots when they repeat the same flight mission. They can also fly at various times in the same location to make timelapses that last for a long time and capture transitions from day to night or season to season.

3D Dolly
On film productions, 3D Dolly can replicate a crane, cablecam, or dolly while exceeding the restrictions of those equipment.
The cinematographer can manually operate the aircraft to go along the planned flight path back and forth while modifying settings like speed, gimbal tilt, and more in accordance with the requirements of the shot. This makes challenging cinematic camera motions simpler, more effective, and capable of producing better visual effects.

Spotlight Pro
Spotlight Pro, an improvement over Inspire 2, gives solo creators more shot options. Inspire 3 provides automated subject detection and locking for people, vehicles, and boats with better accuracy than its predecessor thanks to advanced machine-learning algorithms.
The pilot may achieve circling views without making manual framing adjustments when using Spotlight Pro's Follow mode since the aircraft and gimbal camera turn towards the same direction and remain fixed on the subject.

Omnidirectional Sensing System
With its nine sensors, the Inspire 3 is able to create a powerful omnidirectional sensing system that can identify impediments from all angles and offer all-around flying safety.
Each of the four landing arms now contains a fisheye camera, which is a first. When the landing gear is lifted, this design aids in preventing interference from the airframe and enables the detection of horizontal obstacles when the landing gear is lowered.

Tailormade 8K Sensor
To further drone filmmaking, DJI created the X9-8K Air, their lightest-ever full-frame three-axis gimbal camera, specifically for the Inspire 3. It is equipped with DJI's most recent image processing system, CineCore 3.0, which supports internal recording of videos up to 8K/25fps CinemaDNG and 8K/75fps Apple ProRes RAW, satisfying the demands of top-tier film and television productions.
8K refers to ultra-high-resolution aerial footage with clarity that astounds viewers when projected on larger screens and true-to-life texture that is near to what the human eye sees. RAW fully utilises the X9-8K Air's sensor, giving you a tonne of room for colour grading and visual effects.
With internal recording of up to full-frame 4K/120fps ProRes RAW video without cropping in S&Q mode, the X9-8K Air offers additional creative editing choices.

Dual Native ISO
Dual native ISO is supported by X9-8K Air. It supports EI 800/4000 at full-frame 30 frames per second and below, supporting both the 25 frames per second and the usual 24 frames per second used in commercial and television productions. EI 320/1600 is accessible at frame rates over 30.
Due to its ability to capture images with fine details and little noise, even low-light cityscapes or beaches, the X9-8K Air can compete with high-end ground-based cinema cameras.

More than 14 stops of dynamic range
Rich highlight and shadow details are captured by X9-8K Air's 14+ stops of dynamic range in challenging lighting conditions like sunrises and sunsets. High dynamic range increases post-editing options by preserving true colours even after significant exposure changes.
Lenses with DL Mount
In addition to the previously available full-frame lens options of DL 24/35/50 mm F2.8, the X9-8K Air inherits DJI's own DL mount and is compatible with an additional 18 mm F2.8 full-frame ultra-wide lens and a new telephoto lens. Each of the five lenses was created specifically for aerial filming. The lightest lens in the housings weights only 178 g, which satisfies Inspire 3's demand for ultra-high manoeuvrability. The housings are built of lightweight, monocoque carbon fibre.

DCCS (DJI Cinema Color System)
The DJI Cinema Color System enables the X9-8K Air to maintain realistic colours that change the appearance of aerial cinematography, building on DJI's established colour science and technology. In addition to effectively capturing skin tones in various situations and lighting circumstances, this also applies to urban and nature landscapes. X9-8K Air and ground-based cinema cameras like the DJI Ronin 4D can easily match colours thanks to DCCS, which also delivers a consistent colour palette from the air to the ground to accommodate post-production workflow requirements.

Timecode Sync for Multiple Cameras
You can sync timecode between equipment in the air and on the ground using the 3.5mm connection on the aeroplane. Timecode sync facilitates the editing process when working with copious amounts of material from many cameras.

DJI RC Plus
The DJI RC Plus, a remote controller designed for professionals, is included with Inspire 3 and features a 7-inch, 1,200-nit high-bright screen for exceptional outdoor monitoring. Along with numerous buttons and knobs on the front, rear, and top, it also has an HDMI out port and other features that facilitate simple and quick operation. Additionally, button functionality can be altered to match user preferences and provide a more seamless operating experience.
With an external WB37 battery, the RC Plus' built-in battery's operational time can be increased to 6 hours from about 3.3 hours. Additionally, battery hot-swapping is supported to boost creative productivity.
The new DJI Pilot 2 app for Inspire adds a cinema-grade monitoring interface on top of the traditional flight control interface, making it simple and convenient to check information like camera exposure, video specifications, focal length, and gimbal angle, easily satisfying the monitoring needs of gimbal operators and directors of photography.
A strap and waist support are offered as professional accessories for more comfortable and effective long-term use.

Cinema-Grade O3 Pro Video Transmission
O3 Pro, DJI's most recent cinema-grade video transmission system, is installed in the Inspire 3, allowing for a maximum transmission distance of 12 km in dual-control mode and 15 km in single control mode. The FPV camera and the gimbal camera both enable 1080p/60fps live feeds with an incredibly low latency of 90 ms. O3 Pro has improved upon the Lightbridge video transmission mechanism of Inspire 2 in terms of transmission range, latency, and general stability. In order to support UHD monitoring and livestreaming on set, 4K/30fps live feeds are now also available with a maximum 5km transmission distance.

Independent Links for Dual Control
The dual-control experience of Inspire 3 has been greatly improved over that of its predecessor. The drone's pilot and gimbal operator may both be in different locations on set thanks to two remote controllers that can independently control the drone and receive live feeds. The restrictions on binding the primary and secondary control links in Inspire 2 are broken by this. The gimbal operator can now take control of the aircraft to safely land or return to the pilot's home if the pilot loses the aircraft signal.

Supports DJI High-Bright Remote Monitor
Inspire 3 supports the DJI High-Bright Remote Monitor as a second remote controller in addition to RC Plus. When the Ronin 4D Hand Grips are used, the remote monitor can even adjust the gimbal and focus. It can pair with the Inspire 3 directly to receive live feeds. The remote monitor's HDMI and SDI connectors can also send live feeds to additional monitoring equipment.

Supports DJI Three-Channel Follow Focus
The new DJI Three-Channel Follow Focus may send control signals to Inspire 3 using the O3 Pro transmission method because it is a part of the DJI PRO ecosystem (a DJI High-Bright Remote Monitor must serve as a middleman). Three-Channel Follow Focus enables the focus puller to give an integrated wireless monitoring and control experience by enabling precise remote focus control and stepless aperture adjustments.
*When using two DJI RC Plus remote controllers with DJI Three-Channel Follow Focus, the intermediary DJI High-Bright Remote Monitor must be connected to the RC Plus of the gimbal operator through HDMI and USB A-C connections. The designated employees can now independently operate the pilot, the gimbal, and the focus.

Supports DJI Master Wheels
The Inspire 3's gimbal may be controlled with DJI Master Wheels when a DJI High-Bright Remote Monitor is linked as the second controller (acting as the middleman to the PRO ecosystem). In order to accommodate the working practises of cinematographers, it can offer a gimbal control experience comparable to that of the Ronin 2.

Compatible with DJI Transmission
The Inspire 3 allows more extensive set monitoring thanks to DJI Transmission. A DJI video transmitter with broadcast mode enabled should be connected to an RC Plus. Next, live feeds can be sent to an infinite number of remote monitors, enhancing coordination effectiveness even more.

Dual-Battery System
The new TB51 dual-battery system that powers the Inspire 3 makes use of cutting-edge battery chemistry technologies for improved dependability and performance.
Compared to TB50 batteries, TB51 batteries are more streamlined, lighter, smaller, and have a greater voltage. They have a maximum flight time of 28 minutes and permit hot switching thanks to a newly engineered battery release that makes continuous operation simple.
The battery will activate an auto-heating mechanism if its temperature falls below 18° C (64° F), providing appropriate flight performance even in environments with temperatures as low as -20° C (-4° F).

New Battery Charging Hub
The brand-new foldable battery charging hub balances charging effectiveness and storage capacity to the best possible degree. There is room for eight batteries. Two batteries can be charged to 90% in just 35 minutes using the Fast mode, and eight batteries may be fully charged in just 160 minutes.
Additionally, an RC Plus can be charged via the supplied 65W USB-C connector.

DJI PROSSD 1TB Included
The supplied DJI PROSSD 1TB enables a maximum read speed of 900Mbps, and the film may be read on a computer without the use of a card reader straight using the attached USB-C to USB-C connector.

Storage and Transitions
The newly created trolley case has four 360-degree swivelling wheels, two side grips and an extensible handle to make transitions and transportation simple. For further security, there are two numbered locks installed. One aircraft, one X9-8K Air gimbal camera, two RC Plus remote controllers, four lenses, twelve batteries, two battery charging hubs, three sets of propellers and other stuff can be stored in the cleverly built trolley case. In addition to being simple to store, new foldable quick-release propellers don't need to be installed again before each flight.

Submit Your Review
Your email address will not be published. Required fields are marked *