DJI Air 3 Fly More Combo (RC-N2)
---
SKU: CP.MA.00000692.04
Wide-Angle & 3x Medium Tele
46-Min Max Flight Time
Omnidirectional Obstacle Sensing
Dual-Camera 48MP Photos
Dual-Camera 4K/60fps HDR Videos
OcuSync 4.0
2 people have purchased this product in the last 24 hours.
---
DJI Air 3 Fly More Combo (RC-N2)
Double Up
DJI Air 3 is a small drone that can be folded up and has two strong cameras: a wide-angle camera and a 3x medium telephoto camera. You can enjoy optimised trips with a maximum flight time of 46 minutes, obstacle detection in all directions, and O4 video transmission. And take 48MP photos and 4K HDR videos that show every stunning detail of any scene. With Air 3, you can film your subjects in any way you want and make a strong visual story.

1 x DJI Air 3 Drone
6 x DJI Air 3 Low-Noise Propellers (Pair)
1 x DJI Air 3 Gimbal Protector
1 x DJI RC-N2 Remote Controller
1 x DJI RC-N2 RC Cable (USB-C Connector)
1 x DJI RC-N2 RC Cable (Lightning Connector)
1 x USB Cable
3 x DJI Air 3 Intelligent Flight Battery
1 x Quick Start Guide and Disclaimer. 1 1 x Samsung 128GB Pro Plus SD Card
- Dual-camera imaging system
- Omnidirectional Obstacle Sensing
- Intelligent Features
- Ocusync 4.0
- 20KM Max Transmission Distance
- 46 minutes of flight time
Dual-Primary-Camera System
Air 3 has the first dual-primary camera system in the Air line. It has a 1/1.3-inch-CMOS wide-angle camera and a 1/1.3-inch-CMOS 3x medium tele camera in a slim and compact body. The two cameras have the same size sensor but different focal lengths. This means that the image quality is the same and that there are more ways to take moving pictures.

Complementary Cameras On DJI Air 3
With the wide-angle camera, you can get a better picture of large areas.
And the 3x medium tele camera has a 3x optical zoom that doesn't waste any space. This gives you a unique view of any subject.

Iconic from Every Angle
Use the wide-angle camera's large field of view (FOV) to record more of a scene. Change to the 3x medium tele lens to make any image stand out.

Dual-Camera 48MP Photos
Both cameras are capable of delivering 48MP photos filled with true-to-life details that look great and allow seamless cropping in post for those who need it.

Dual-Camera 4K/60fps HDR Videos
The two CMOS cameras on the Air 3 are 1/1.3 inches and support dual native ISO. This means that 4K/60fps HDR video can be directly output without cropping. This means that video from either camera can be full of rich colours and natural changes in lighting, giving results that are both stunning and very accurate.
Both cameras have 10-bit D-Log M and HLG colour settings. 10-bit D-Log M mode preserves highlight and shadow details for editing versatility. 10-bit HLG mode provides a larger dynamic range for better pictures without colour correcting.

Fly Confident, Fly Safe
Air 3 has 46 minutes of flight time, 48% more than its predecessor. In one flight, you may explore, tweak compositions, and get the photos you want.
Power transfer is possible with the new battery charging hub. In restricted charging scenarios, press and hold the function button to transfer power from various batteries to the battery with the most power.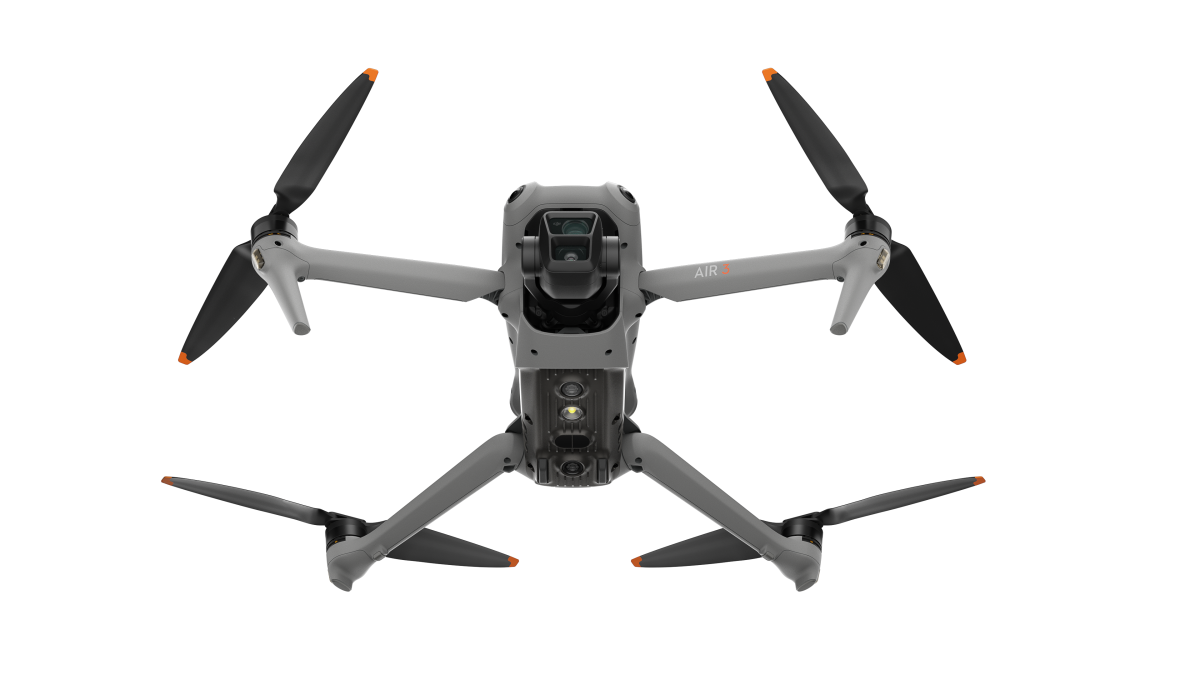 Omnidirectional Obstacle Sensing
An omnidirectional sensing system gives Air 3 a full picture of its surroundings and lets it find objects in any direction. When hurdles are found, Air 3 can use APAS 5.0 to move more smoothly to avoid them, making the flight as a whole safer. Even people who have never flown before can now feel confident and try out creative ideas in a safer way.

O4 Video Transmission
The next-generation O4 video transmission method gives Air 3 a dramatically better ability to send and receive video. It has a maximum range of 20 km, more stability, and a live feed with a maximum quality of 1080p/60fps to make watching and operating very smooth.

Advanced RTH
During Smart RTH, Air 3 will automatically plan an optimal flight path for Advanced RTH while keeping omnidirectional object sensing so it can quickly and safely return to its home point.

Intelligent Features to Fly Inspired
FocusTrack
FocusTrack makes it easy to keep yourself or your subject in the middle of the picture. When focusing on a subject, the 3x medium tele camera gives a unique feeling of space compression. With the updated tracking performance and all-around object detection, you can get smart, well-planned shots whenever and wherever you need them.
QuickShots
QuickShots gives the Air 3 creative ways to move the camera, such as Rocket, Dronie, Circle, Helix, Boomerang, and Asteroid.
2.7K Vertical Shooting
Both cameras on the Air 3 can shoot in 2.7K vertically, which makes landscapes and other subjects look very dynamic in vertical format. The 2.7K vertical shot output from the 4:3 CMOS gives you clips that are perfect for watching on a smartphone and ready to share on social media without having to crop them first.
MasterShots
MasterShots lets the Air 3 automatically move the camera in different ways, shoot multiple clips, and edit them with music, cuts, and effects to make dramatic footage that is quick and easy to make.
Waypoint
Waypoint is now available on the Air series for the first time ever. Plan the flight paths and shooting actions for Air 3 ahead of time to get hard camera moves and stunning one-takes. You can also save flying routes so that you can move the same way again at a specific time or date in the future. This makes it possible to take long-term timelapse shots that show changes like day to night or season to season.
Submit Your Review
Your email address will not be published. Required fields are marked *