DJI Air 3 Fly More Combo (RC 2)
---
SKU: CP.MA.00000693.04
Wide-Angle & 3x Medium Tele
46-Min Max Flight Time
Omnidirectional Obstacle Sensing
Dual-Camera 4K/60fps HDR
New O4 Video Transmission
New DJI RC 2 Controller
---
DJI Air 3
Double Up

The DJI Air 3 is a small, foldable drone with two powerful cameras: a wide-angle camera and a 3x medium zoom camera. You can enjoy optimised trips with a maximum flight time of 46 minutes, obstacle detection in all directions, and O4 video streaming. And take 48MP photos and 4K HDR movies that show every beautiful detail of any scene. With Air 3, you can film your subjects in any way you want and tell a great visual story.
1 x DJI Air 3 Drone
6 x DJI Air 3 Low-Noise Propellers (Pair)
1 x DJI Air 3 Gimbal Protector
1 x DJI RC 2
1 x USB Cable
3 x DJI Air 3 Intelligent Flight Battery
1 x Quick Start Guide and Disclaimer.
1 x Samsung Pro Plus 128GB SD Card
Dual-camera imaging system
Omnidirectional Obstacle Sensing
Intelligent Features
46 minutes of flight time
Ocusync 4.0
20KM Max Transmission Distance

Dual-Primary-Camera System
Air 3 boasts Air's first dual-primary camera system. Its small body houses a 1/1.3-inch-CMOS wide-angle and 3x medium tele camera. Both cameras have the same sensor but different focal lengths. This implies that image quality is the same and that there are more options for taking moving photographs.

DJI Air 3 Complimentary Cameras
You can capture larger regions better using the wide-angle camera.
Additionally, the 3x medium telephoto camera includes a 3x optical zoom that takes up no extra room. This offers a distinctive perspective on any subject.
Iconic from All Directions
Use the broad field of view (FOV) of the wide-angle camera to capture more of the scene. To make any image stand out, switch to the 3x medium tele lens.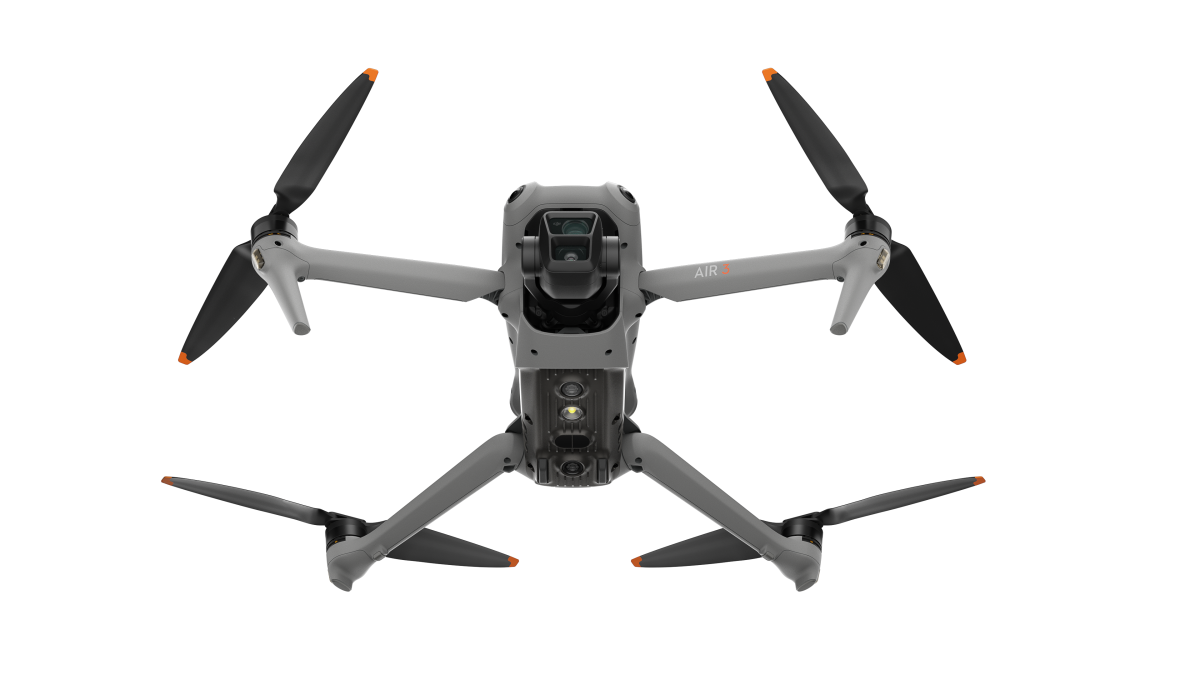 48MP Dual-Camera Images
Both cameras are able to produce 48MP images with realistic details that look beautiful and enable smooth cropping in post-production for those who require it.

Dual-Camera HDR Videos in 4K/60 FPS
The Air 3 has two 1/1.3-inch CMOS cameras that offer dual native ISO. As a result, 4K/60fps HDR footage can be transmitted directly without being cropped. This implies that footage from either camera can be full of vibrant colours and subtle variations in lighting, producing breathtaking and exact results.
D-Log M and HLG 10-bit colour options are available on both cameras. For greater editing flexibility, use 10-bit D-Log M mode to maintain highlight and shadow details. A greater dynamic range is offered by 10-bit HLG mode for better images without colour grading.
46 Minute Flight Time
The flight time of Fly Confident, Fly Safe Air 3 is 46 minutes, which is 48% longer than its predecessor. You may explore, adjust compositions, and take the desired photographs in a single flight.
With the help of the new battery charging hub, power transfer is feasible. Press and hold the function button to transfer power from different batteries to the battery with the most power when charging is constrained.
Sensing of obstacles in all directions
Air 3 has a thorough understanding of its environment thanks to its omnidirectional sensor technology, which also enables it to locate things in any direction. When obstacles are discovered, Air 3 can employ APAS 5.0 to move more smoothly around them, hence increasing the overall safety of the flight. Even those who have never flown before can now experiment safely and feel confidently.

OcuSync 4.0 Video Transmission
The next-generation O4 video transmission technology significantly improves the video sending and receiving capabilities of Air 3. It offers a greater degree of stability, a live broadcast with a maximum resolution of 1080p/60fps, and a maximum range of 20 km, making watching and using it very smooth.
Advanced Return To Home
In order to rapidly and safely return to its home location during Smart RTH, Air 3 will autonomously create an ideal flight path for Advanced RTH while maintaining omnidirectional object sensing.
Inspired by Intelligent Features to Fly
FocusTrack
Maintaining yourself or your subject in the centre of the frame is simple with FocusTrack. The 3x medium tele camera creates a distinct sense of space compression when focussing on a subject. Whenever and whenever you need them, you can obtain smart, well-planned photos thanks to the enhanced tracking performance and all-around object identification.
QuickShots
With QuickShots, the Air 3 can move the camera in a variety of inventive ways, including Rocket, Dronie, Circle, Helix, Boomerang, and Asteroid.
Vertical Shooting in 2.7K
Landscapes and other objects seem incredibly vibrant in vertical format because both cameras on the Air 3 can shoot in 2.7K. You can get clips from the 4:3 CMOS's 2.7K vertical shot output that are ideal for viewing on a smartphone and are already ready to post on social media without needing to be first cropped.
MasterShots
With MasterShots, the Air 3 can quickly and easily create spectacular footage by automatically moving the camera in various directions, recording several clips, and editing the movie with music, cuts, and effects.
Waypoint
For the first time ever, Waypoint is now accessible on the Air series. To achieve difficult camera movements and breathtaking one-takes, plan the flight pathways and filming activities for Air 3 in advance. Additionally, you can record flight paths so that you can return to the same location at a later time or date. This enables the capture of lengthy timelapse images that display shifts such as day to night or season to season.
Submit Your Review
Your email address will not be published. Required fields are marked *