DJI Mavic 3 Fly More Combo
---
Up to 46 Minutes Flight Time
5.1K 50fps Video Recording
Omnidirectional Obstacle Sensing
DCI 4K/120fps
10-bit D-Log Color Profile
Hasselblad 4/3 "CMOS sensor
---

DJI Mavic 3 Fly More Combo In Stock Now! - Drone Safe Store - Buy From The EXPERTS!!
Drone Safe Store is a trusted official UK DJI dealer which is part of the Drone Safe Register group as seen on BBC's Dragon's Den. - Still unsure? Check out our Google Reviews.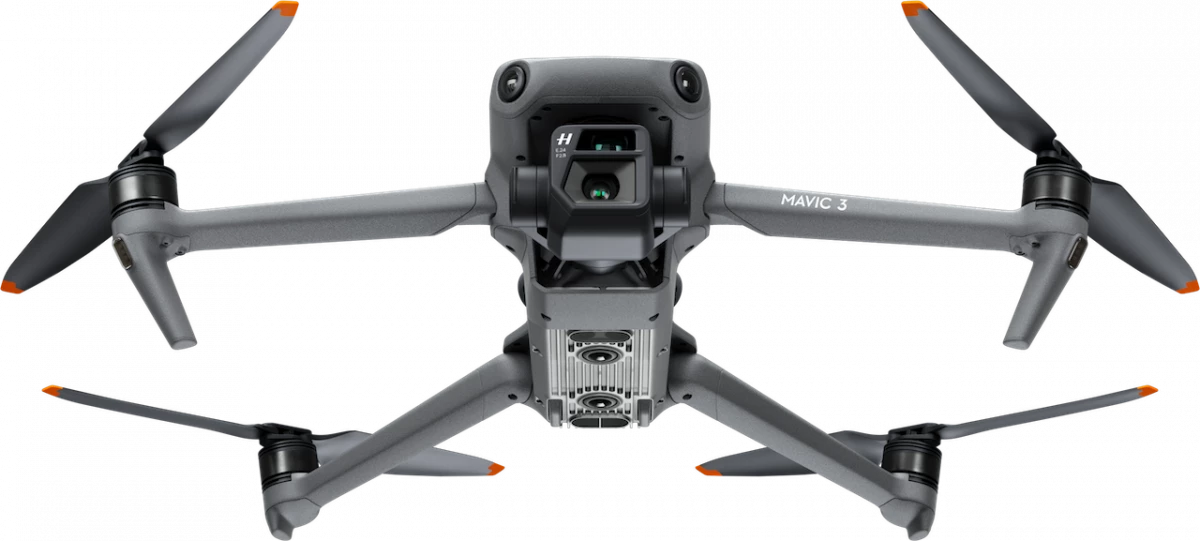 With the DJI Mavic 3 Fly More Combo, you can dive into the realm of professional aerial photography. DJI has finally released the DJI Mavic 2's precursor. In the drone world, we are now at a point where you can get high-end camera quality in a portable size factor. With the DJI Mavic 3, you can say goodbye to lugging around bulky hard cases.
The image captured by the Micro 4/3 "CMOS sensor is amazing. Whether you get the cine or standard version, it's a huge improvement over the previous Mavic, recording more information than ever before. Hasselblad, a Swedish manufacturer, custom-designed the Mavic 3's 20-megapixel camera to make it truly unique. For wide-angle photos, the camera has an aperture range of f/2.8 to f/11 and an 84-degree field of view.
DJI has collaborated with Hasselblad, a renowned Swedish camera manufacturer, to develop a camera capable of capturing amazing images. The Mavic 3's bigger sensor provides it a higher dynamic range and resolution, as well as a superior low-light performance. The 4/3 CMOS sensor also has a high 12.8-stop dynamic range, allowing the user to capture more information in the shadows, resulting in higher quality output. The Mavic 3's Hasselblad camera also has Vision Detection Auto Focus technology. This means that many vision sensors work together to gather distance data more quickly, allowing for faster focus.
The Mavic 3's new camera offers a larger field of view than previous models, allowing you to capture considerably more action than ever before. With an 84-degree field of vision, you can get more out of every photo. It also contains a natural colour solution that produces rich, natural colours with a single button click. Hasselblad didn't take the Mavic 3 lightly, and everything they've done with the L2D-20c lens lives up to Hasselblad's high standards.
With a 5000mAh battery, the Mavic 3 can fly for up to 46 minutes in the absence of wind and up to 40 minutes in the presence of wind, giving you plenty of time to capture the ideal photo. The Mavic 3 can resist gusts of up to 12 m/s, allowing it to fly steadily in windy circumstances with a range of up to 12 kilometres.


1
Features
5.1K 50fps video recording
Up to 46 minutes flight time
Omnidirectional Obstacle Sensing
DCI 4K/120fps
What's In The Box?
1 x DJI Mavic 3
1 x DJI RC-N1 Remote Controller
1 x RC-N1 Remote Controller Control Sticks
3 x DJI Mavic 3 Intelligent Flight Battery
6 x DJI Mavic 3 Low-Noise Propellers
1 x DJI RC-N1 RC Cable (USB Type-C Connector)
1 x DJI RC-N1 RC Cable (Standard Micro-USB Connector)
1 x DJI RC-N1 RC Cable (Lightning Connector)
1 x Type C Cable
1 x DJI Mavic 3 Storage Cover
1 x Type-C Cable
1 x DJI Mavic 3 Battery Charging Hub
1 x DJI 65W Portable Charger
1 x DJI Mavic 3 ND Filters Set (ND4\8\16\32)
1 x DJI Convertible Carrying Bag
As an official DJI retailer, we offer DJI's 12 month warranty on all new DJI purchases. Simply contact us to return your defective device. (Delivery charges apply) To find out more about what is covered under DJI's warranty, please CLICK HERE
Our team of professionals are on hand Monday-Friday, 9am-5.30pm for queries and technology support.
Contact us via email – [email protected] or by phone – 01243 882440
All orders made before 3pm ensure next business day delivery for UK mainland. Northern Ireland, Ireland and Scottish Highlands may take up to 5 business days.
Follow our pages on Instagram and Facebook for the latest product updates and exclusive discounts @dronesafestore

Submit Your Review
Your email address will not be published. Required fields are marked *