DJI Mini 4 Pro Fly More Combo (RC 2)
---
SKU: CP.MA.00000735.04
Weighs Under 249g
4K/60fps HDR Video
34 Minute Flight Time
20KM Video Transmission
360° ActiveTrack
Omnidirectional Obstacle Sensing
3 people have purchased this product in the last 24 hours.
---
DJI Mini 4 Pro Fly More Combo (RC 2)
The DJI Mini 4 Pro is the latest and greatest 'Mini' drone to date. Incorporating strong image capabilities, omnidirectional obstacle detecting, ActiveTrack 360° with the new Trace Mode, and 20km FHD video transmission, it adds more to love for beginners and professionals

Mini 3/Pro Battery = Works but reduced propulsion and performance and goes over 249g
Mini 3/Pro Battery PLUS = Works but goes over 249g
Mini 4 Pro Battery = Only for Mini 4 Pro
1 x DJI Mini 4 Pro
1 x DJI RC 2
3 x DJI Mini 4 Pro Intelligent Flight Battery
3 x DJI Mini 4 Pro Propellers (Pair)
1 x Screwdriver
1 x DJI Mini 4 Pro Two Way Battery Charging Hub
1 x DJI Mini 4 Pro Gimbal Protector
1 x DJI Mini 4 Pro Propeller Holder
1 x Quick Start Guide + Safety Guidelines
1 x Type-C to Type-C PD Cable
1 x USB-C Cable
1 x DJI Mini 4 Pro Shoulder Bag
1 x Samsung Pro Plus 128GB MicroSDXC Card
1 x DJI Mini 4 Pro Hardcase
1 x Neck Strap For DJI RC/RC Pro/RC 2
Under 249g
HDR True Vertical Shooting at 4K/60FPS
Omnidirectional Obstacle Sensing
OcuSync 4
20KM Range
360° Active Track
As an official DJI retailer, we offer DJI's 12 month warranty on all new DJI purchases. Simply contact us to return your defective device. To find out more about what is covered under DJI's warranty, please CLICK HERE
Sub 249g
The DJI Mini 4 Pro weighs just under 249g grammes enabling you to fly with fewer restrictions in most countries. In the U.K the sub 249g weight of the DJI Mini 4 Pro allows us to fly it without minimum distances to buildings and people. (Please see Drone Code)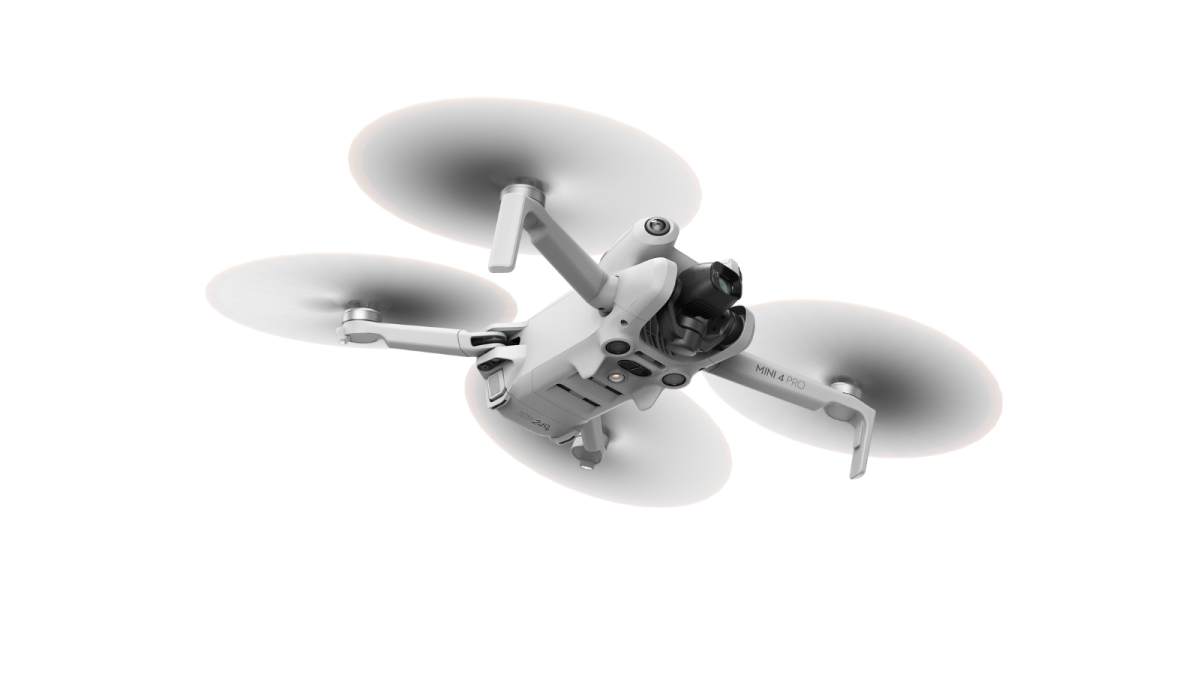 Outstanding Imaging Performance
The camera on the Mini 4 Pro is powered by a 1/1.3-inch CMOS sensor with Dual Native ISO Fusion, f/1.7 aperture, and 2.4 m 4-in-1 pixels, making it simple to capture more intricate details. High dynamic range and more highlight and shadow details guarantee flawless results in each frame.
D-Log M and HLG Colour
You can give colourful scenes the attention to detail they deserve with 4K/60fps HDR and 4K/100fps footage. Meanwhile, 10-bit D-Log M and HLG help record a breathtaking variety of colours and allow additional versatility when editing and sharing content.
4K HDR Footage At 60fps
Protect the beauty that exists in any given time. Sharing the subtleties of a sunrise or sunset in a quality that is as close to real life as possible is possible with 4K/60p HDR.
Slo-Mo 4K/100fps
Immerse the audience in every frame. With slow motion in 4K clarity, capture the action on the trails, at the beach, or in your own backyard at 100fps.
Night Shots
The enhanced algorithm for noise reduction in the Night Shots video mode of the Mini 4 Pro effectively reduces noise and enables crisper, cleaner footage to be captured straight from the camera.
1.07 Billion Colors
Record in 10-bit D-Log M and record more than a billion different colours with this setting. Because of the realistic colour gradations and sensitive details over the full spectrum, Mini 4 Pro enables professional-level post-production control as well as expert-level freedom in creative editing.

Dynamic across Any and All Platforms
Because of its large dynamic range, HLG ensures that the natural colours and brightness of the material remain true to life without requiring any adjustments or format conversions, regardless of where the content is published.
Photos Saved in RAW Format
Sometimes the most important things are the smallest ones. Save even the most minute of details with a resolution of 48 megapixels RAW and the next generation of SmartPhoto, which combines HDR imaging, scene recognition, and other features to create photographs that stand out.

Omnidirectional Obstacle Sensing
The Mini 4 Pro's all-around obstacle detection makes it an exceptionally safe vehicle. It is able to identify impediments from all directions thanks to its two pairs of downward vision sensors and its four wide-angle vision sensors. The Advanced Pilot Assistance Systems (APAS) enable autonomous braking and bypassing while the aircraft is in flight, which provides an additional layer of safety.

34 Minute Flight Time
The Mini 4 Pro has been awarded the C0 certification in Europe. You receive up to 34 minutes of flying time with the basic Intelligent flying Battery, which ensures uninterrupted creation without the need to worry about running out of battery.

20KM Range
Mini 4 Pro features DJI's O4 video transmission. Enjoy ultra-responsive control and smooth 1080p/60fps FHD live feeds from distances of up to 20 km.

A Dash of Cinematic Influence
Spotlight, Point of Interest, and the groundbreaking new ActiveTrack 360° with enhanced subject tracking capabilities are the three simple ways that the Mini 4 Pro provides you with the ability to get the photos that you desire with ease. To record photos that flow into one another seamlessly, use the tracing wheel interface to drag and drop a route. Bypassing barriers and obtaining smoother, more steady tracking for professional-level outcomes is astonishingly simple when using omnidirectional obstacle detection since it detects impediments from all directions.

Submit Your Review
Your email address will not be published. Required fields are marked *